HEALTHY AND SAFE😊
GIVE IT A TRY, YOU WILL BE SURPRISED

👍
End the stress and frustration of the day with the waxfree Hindu Therapeutic Cone.
Used for many centuries as the basis of ancient Chinese therapy, the waxfree Hindu Cone with propolis is made from a natural blend of wax and propolis within the principle of aromatherapy. The use of waxfree Hindu Cone is indicated to treat the ears, such as earaches, ear infections, excessive noice and tinnitus.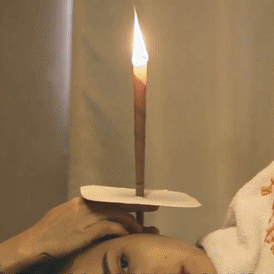 Benefits:
Safely remove wax and toxins

Relieve stress and headaches

Improve hearing and ear odors
Features:
HEALTHY: Clean

locked

ears, ear

wax

remover

.

Healthy with less smoke.

ORGANIC:

Natural material, made from 100% natural beeswax, good for

your

health.

PRINCIPLE:

Candle burns to consume its oxygen, creates a low pressure environment, creates a suction effect, massages the eardrum and gently loosens the earwax, thereby reducing pressure.

RELAX:

Sweet aroma improves sleep, 10-12 minutes on fragrance ear candles solve stress, have a better life.
SAFETY:

Large disks protect you from flames, enjoy it with a partner support would be better, promote the relationship.

BUNT:

8-color

ear candle

that lights up your life: Orange-Sweet, Green-Healthy, White-Refreshing, Purple-Soothing, Pink-Romantic, Yellow-Relaxing, Brown-Calming, Blue-Nature.
How it works:
Important notes :
The use of ear candles is at your own risk and responsibility.

For any kind of inflammation of the ear or skin around the ear, we do not recommend the use of ear candles.

For personal safety we do not recommend to do the treatment yourself. It should always be done by a second person.

Ear candles are a naturopathic practice that does not replace medical treatments. Please inquire with your doctor before use.

Please keep away from heat during storage
✅ Ideal for:
People who work outdoors or a lot of dust in the work environment.
❌ Unsuitable for:
People who suffer from perforated eardrums or purulent ears, pregnant women, menstruation.
Package Include: