Waterproof HD Micro Cable Camera
Struggling to see in narrow/ dark cracks around your home? Lost items under the refrigerator? Your toilet is getting clogged?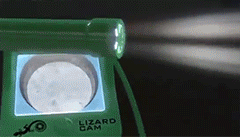 Waterproof HD Micro Cable Camera is a micro-inspection camera that snakes into tight and hard-to-reach spaces and gives you a set of eyes where you can't see.
It's so easy to use – just feed and view on a 2.4" HD screen! Whether you need to inspect a clogged toilet, shower drain, or need to see behind your appliances/ furniture, this camera offers 4-foot waterproof cable to bend and flex to perfect fit into any desired space.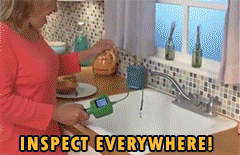 he micro camera with built-in LED lightcaptures everything on the hand-held view screen. A must-have for any homeowner and renter or even for a clumsy family member that loses things!
FEATURES:
Handheld Real-time Monitor -

Conveniently displays what the camera sees on a 2.4-inch HD colored screen. No more worrying about dropping your inspection camera in the toilet!
Flexible 4-foot Cable - Generous 4-foot long serpentine cable bends and flexes to go where you need it
Ultra Bright LED Light -

Discover lost objects, pipe clogs, and critter nests in the darkest corners and crevices with bright LED light fixed at the tip of the camera
Waterproof - Able to investigate clogs in drains, toilets, and septic tanks without worrying about the camera shorting out
3 Tips for Different Usage -

A

hook tip

is for removing items & debris from pipes and drains.

A

mirror tip

is for periscope action when investigating tight spaces. A

magnet tip

helps pick up metal objects from tight spaces
Size: 3.25" x 2.25" x 8.75"
Cable length: 4 ft. (1.2m)
Display size: 2.4"
Probe Length: 4"
Product Weight: 0.65 lb
Power: 4 x AA Batteries (Not Included)
HD Micro Camera: Yes
LCD Display: Yes
Waterproof Camera Head: Yes