🌟UV Toothbrush Holder🌟
💗

Features:
❤

UV SANITIZER with UV LIGHT Killing aggressive germs and bacteria and avoiding bacteria multiplication after sterilization;

With a drying added, this UV toothbrush holder can improve the drying speed of toothbrush heads.
❤

HOLD 5 TOOTHBRUSHES Perfect for families,

it can keep 5 toothbrushes in order even electric toothbrushes; Built-in Ultraviolet (UV) light let it function as a UV toothbrush holder; You'll never mess up your lovely toothpaste for a toothpaste holder added. Keep your toothbrush and toothpaste cleaner and more hygienic.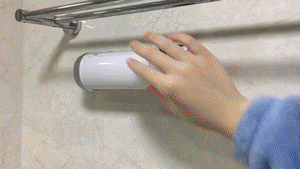 ❤

EASY INSTALLATION No drills needed,

the back of the toothbrush holder has a strong double-sided tape, which can be used directly to stick to the wall without damaging the wall. 8 minutes sterilization ,4 minutes drying, Auto off function- 5 mins UV sterilization and then auto cut off to save energy. Charge with an adapter or battery.It takes

4 hours f

or each charge and can last for 5 hours.
❤

TOOTHPASTE HOLDER Not Dispenser:

This is Not toothpaste dispenser which is easy to breed bacteria. But the right half of this product is just a Toothpaste Holder which is designed to make the toothbrush and toothpaste head cleaner, healthier and less disturbed by bacteria. It's cleaner to squeeze the toothpaste by yourself!
❤

A UV toothbrush holder:

4 replaceable decal stickers symbolizes different seasons offer you a nice mood(you can choose as you like) when doing the brushing thing; Comes with 3M double-sided Scotch tape.
💗

Product Description:
Material: non-toxic and harmless ABS material, durable and waterproof
Appearance: 4 stickers to meet various bathroom styles
Design: convenient, clean, practical, space saving; design with cover to prevent external pollution and more hygienic
Safety: The product design is round and meticulous, without any sharp angle, suitable for the safe use of the whole family including children and the elderly.
Sterilization:
💯1. There are 5 slots in the toothbrush holder, which can accommodate 5 toothbrushes at the same time.It is suitable for ordinary toothbrushes, electric toothbrushes and other toothbrushes
💯2. The toothbrush holder has UV sterilization function with UV light, 360 degree UV surround sterilization, it can kill 99.9% of bacteria.
💯3. After sterilization, it will automatically drying the toothbrushes and keep dry inside.Double protection to make your and your family's toothbrushes cleaner and more hygienic from bacterial contamination and prevent oral diseases.
💯4. Easy Installation: no nail design, no damage to the wall, sticker design, easy installation
💗

Package Include:
1×
UV Toothbrush Holder
Size: 22 x 11 x 6.5 cm