🌟USB LED Car Atmosphere Lamp🌟
🌈Interior Stars Light Colorful Music Lamp🔮
FEATURES:
Two types optional:

normal type for continuous light and three modes for colored light. Only three modes type has a remote control to choose by yourself, breath pattern, flashing model or voice control model what you like.

For children:

With this light, the child will not feel bored on the street, they will study the change of color, dancing with music, singing to change the color. The lights make the journey as a party, never be boring.

For family and friends:

The light is suitable for the party in the wild, let the wild to the ballroom. Turn cars into a source of brilliant light

For the beloved:

The light is a romantic creator, very suitable for the lovers who like to camp or just stay in the car.

Adjustable bracket, multi-directional cover:

Starlight light host-free adjustment bracket, 90 degree up and down adjustment, suitable for different lighting directions.

Easy to install:

Plug the USB port into your car's USB port with an 8V-36V USB port and play wherever you go.

Long life safety:

Lifetime 10000 hours with 650nm wavelength and low 100mw power, with Class IIB laser safety class, working temperature -20 to 70 degrees.

Main advantages:

Small, easy to use Universal for cars / automobiles, many scenes can be used.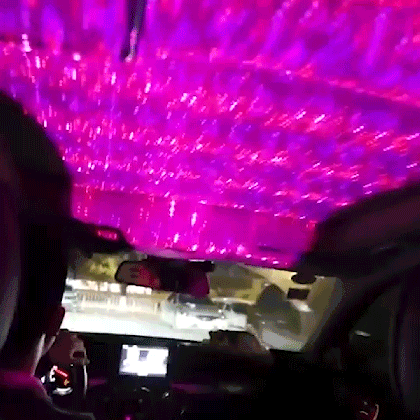 SPECIFICATIONS:
Shell material: ABS
Light color: red
Working voltage: 5V
Waterproof: IPX4
PACKAGE INCLUDED:
Normal Type: 1 Set USB LED Car Atmosphere Lamp (Without Remote Control)
Three Modes Type: 1 Set USB LED Car Atmosphere Lamp (With Remote Control)