Storage Network of Car Seat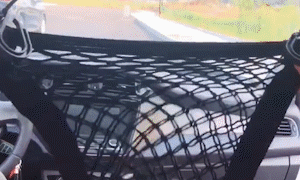 Ever tired of the messy car space?
Storage Network of Car Seat will give you a clean and convenient space!
It can be used as:
AUTO HANDBAG HOLDER: Keeps your handbag easily accessible, clean and inaccessible to passengers.

SMALL ORGANIZER: The bag is perfect for small items such as umbrellas, gloves, charging cables, etc. and just puts the purse in front of the bag.

A PET BARRIER: It is also a good barrier for pets. It also prevents your baby from crawling and is safer.

Properties:
Never again roll your lipstick under the seat of a stain!

Passengers will love not to step on or hold their purse!

Do not ask others to grab your handbag or stretch to grab it yourself!

4 very simple installation steps. (Easy to remove, also in the rental car to take!)

FEATURE


ENSURE DRIVING SAFER - Besides the storage function, it can also be used as a barrier for kids and pets to prevent kids and pets from entering the front seat while driving, so that you can concentrate on driving and make driving safer.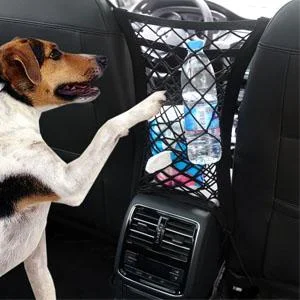 KEEP THINGS TIDY - Stretch cargo net SUV across your trunk or truck bed to store sports gear, balls, and groceries. Stop things from rolling or rattling all over your trunk or hatch.

Keep your storage area organized and clutter-free.
PROVIDE MORE STORAGE SPACE - 3-layer storage design can store your wallet, mobile phone, bag, etc so that you can easily get your items from the storage bag. It can accommodate items of all shapes and sizes, saving cargo space at the rear and increasing the total capacity, preventing items from sliding around or tipping over.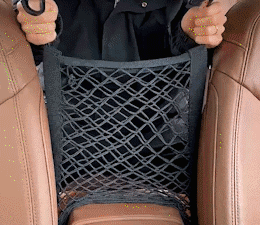 EASY TO INSTALL - According to the model and installation location,

use the self-locking hook or installation package to hang the box.
PREMIUM QUALITY - The trunk net organizer for the car is made from high-quality Polyester material to

ensure strength and durability. It won't tear or rip easily. Water-resistant, fabric for easy care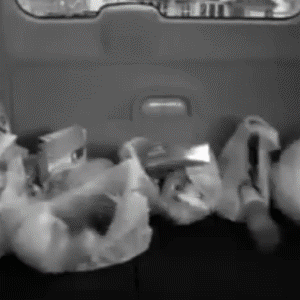 Specifications:
Material: nylon
Color: Black
Size: 25 x 30 cm
Package weight: 0.13 kg
Washing method: hand or machine wash
Package includes:
1 x Storage Network of Car Seat