😍This is the perfect addition to your kit with our responsive electrical tester pen.
Using high-quality and durable accessories and with 4 functions on it to allow you to be prepared all the time.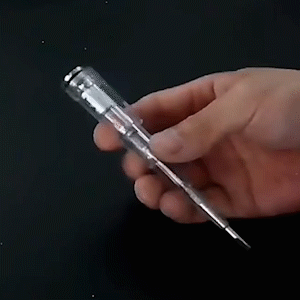 MAIN FEATURES
【Safe&High-quality】
Our tester pen is composed of high-quality and durable PVC Handle, screw rod, slotted point screwdriver, nut, spring, neon bulb tube and resistance block, which ensure the safety while using

【Self Check Function】
In self-check before use, please hold the pen tip with one hand and touch the tail with the other hand.When the light is on, it means the tester pen is normal and has sufficient power. No light indicates that the battery needs to be replaced.
【Automatically Induction】
As long as it is close to the insulation of the wire, the plastic shell of the electrical appliance, etc., when the light is on, it means that the line is live. The brighter the light, the higher the voltage of the tested circuit, and vice versa.

【Find Line Breakpoints】
One hand touches the bottom of pen, and the tip of pen touches the wire. The breakpoint is where the light goes out. It is used to find breakpoints in daily household appliances such as rice cookers, computers, and plug-in boards, etc.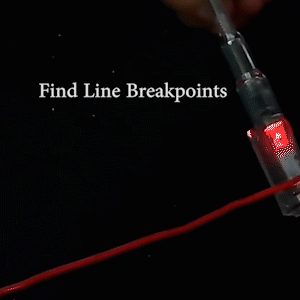 【DC Detection】
Please touch the bottom of the pen with one hand, touch the positive terminal of the battery with the tip of the pen, and touch the negative terminal of the battery with the other hand. When the light is on, the battery is fully charged, and vice versa.

【Bright Light&Waterproof】
The pen is designed with a bright LED light, which is also an obvious cue when used during the day. What's more, it is waterproof, which allows you to work well outdoors.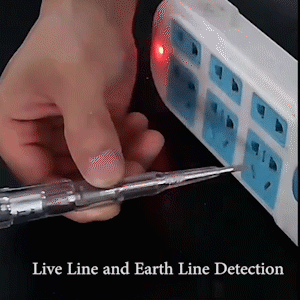 【Warm Tips】
The hand need to touch the bottom of the pen, that is, the position of the screw rod, otherwise it cannot be judged whether the line is live.

When thepen touches the live linesocket, the light will be on, indicating that the line has power. When the pen touches the earth line socket, the light will not turn on.

Because the air is charged with static electricity, slight shaking will also cause the pen to lighten slightly.
SPECIFICATIONS:
Size: 0.3×14cm/0.1×5.5"

Input Voltage Range: 70-250V

Weight: 50G

Color: transparent

Package includes:1×Responsive Electrical Tester Pen
NOTE
Due to manual measurements, please allow slight measurement deviations.