🌈Let's start from Healthy Body

😎

Exercises Anywhere & Anytime

👏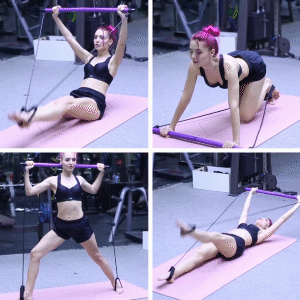 How to be healthier?🧐How to lose lower belly fat and get toned abs?🧐
How to get big butt and small waist?🧐
Try this for one week and you will be surprised😎
Perfect for beginners and even better for experienced users😍

The Pilates Resistance Band and Toning Bar is like having your very own portable Pilates studio. The innovative design includes a steel bar with two resistance-band power cords and nylon foot loops. From bicep and tricep curls to lunges, squats, and more, the Long and Lean Toning Bar lets you get a full-body workout. Sculpt and tone your abs and develop long and lean muscles. Great for yoga stretching and low-impact muscle toning.

Features:
CONVENIENT HOME GYM:Get a full-body workout similar to a Pilates mat or reformer workout;great for resistance-band exercises,yoga, stretching,and low-impact toning.

MIND-BODY BENEFITS: Develop a strong core, flat abs, and long and lean muscles with mind-body focus through every movement.

MAXIMUM RESISTANCE: 100% elastic bands with stretchy fabric cover; stronger and safer than standard rubber tubing; contains latex.

COMPACT DESIGN: 2-piece bar comes apart for easy travel and storage.
Specifications:
Material: metal tube + foam + TPE elastic tube

Color: purple

Size: rod length 91cm + tube length 85CM
Package includes: