Plaque and tartar build-up can cause a whole host of health issues that, if left untreated, can lead to infection and pain that requires oral surgery and anesthesia!
Our pets deserve healthy mouths just like us. We need to regularly clean the stubborn stains on their teeth so they don't cause dental problems. Pet Dog/Cat Teeth Cleaning Pen helps remove plaque buildup and can treat irritated or swollen gums.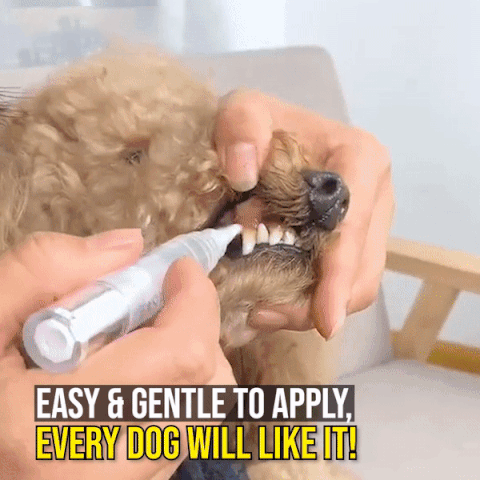 FEATURES
Fresh Plant-Based Oral Formula- Made from all-natural substance, it removes tartar build-ups and stubborn black stains by weakening calculus in your furry friend's teeth, leaving their mouth fresh and clean.

Strengthen Gums- Bad breath is not always caused by what your pet eats. Most often, it is because of the bacteria living under their gums.

Pet-Friendly- This pen's soft brush makes cleaning painless and less stressful for your pet without causing inflammation while doing the job.

Easy to Use- Do you find it hard to clean your pet's teeth because of their slippery saliva? Use this pen instead! With its anti-slip design, the job is made a LOT easier and faster so you can focus more on removing the teeth stains.

Money-Saving- No need to refill the pen with oil over and over again. With just one single drop every session, you can cleanse your dog's entire mouth from stains and bacteria.
SPECIFICATIONS
Main Ingredients: Plant Extract Alcohol, AOP Whiten Factor, Polypeptide Biological Enzyme, Carbomer, Nano s1o2-05wdj -39 Menthol, Deionized Water

Net Wt: 5ml

Package includes: 1 * Pet Teeth Cleaning Pen