Multi-function Cleaning Brush
Tackling hard-to-clean surfaces such as bathroom counters, tubs, tiles, or windows just got easier with Multi-function Cleaning Brush.
This innovative scrubber takes the hassle out of scrubbing dirty surfaces and delivers a superior cleanse. It is a definitely ideal gift for people who have backache, stiff shoulders, lumbago, to them, the cleaning is more heavy and painful, but this electric spin scrubber can lighten their burden of cleaning, thus, they don't have to bend to scrub, or waving hands to wipe away the dirt anymore.
A perfect gift idea for mom, wife, or anyone else who hates cleaning!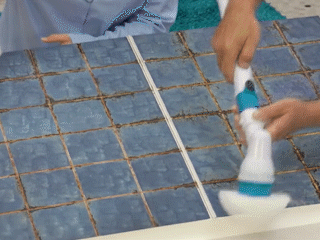 SCRUBS & CLEANS IN SECONDS : With over 300 RPM of scrubbing power and a powerful rechargeable battery, all your stubborn soap scum, mildew, grime, and hard water stains will be gone in no time. Just turn on and watch our scrubber go to work.
3 REPLACEABLE BRUSH HEADS: 3 brush heads included to fulfill your different cleaning inquiry. The Interchangeable Brushes for multi-purpose uses to get rid of soap scum, mildew, grime. Flexible and durable bristles get into cracks and crevices with supreme effectiveness! Search Homitt brush heads can be bought extra replaceable brush heads.

WATER-RESISTANT & SAFE:

The power scrubber brush head is resistant to mildew and bacteria which can prevent from moisture, built for long-lasting performance. The highly sealed design makes it also resistant to splashing water and can be used under wet condition.
EXTENSION ARM & ADJUSTABLE BRUSH HANDLE: Different from other electric scrubbers, Homitt scrubber and cleaner brush handle can adjust to being tilted or versatile when pressing the button. It also comes with a 21-inch extendable handle for you to scrub and clean hard to reach corners without bending, especially healthy for back pain and arthritis.
Multi-function Cleaning Brush: with built-in rechargeable batteries, rotates 300 times per minute; it's incredible torque scrubs away calcium, soap, and hard water stains with ease. Say goodbye to harsh and abrasive cleaners; The flexible bristles mold into cracks and crevices, corners, and shower tracks for a super clean without chemicals. The Multi-function Cleaning Brush is tough enough for both indoor and outdoor use.
Specifications:
Weight: 1300g.
Long handle,short handle purpose, multi-brush head.
Handheld size: 64.5 -112cm.
Material: ABS
Voltage:AC110v-22v, 50HZ.
Battery: Nicd DC 3,6V.
Power consumption: 3.15w.
charging time: 5 hours.
Duration: approximately 60 minutes.
PACKAGE INCLUDE:
1

Set

x

Multi-function Cleaning Brush