Don't let those left over snacks get stale, or those powdered drink hardened. Seal them with this Mini Portable Heat Sealer!
Simply slide it along the edge of any bag and it's sealed airtight in seconds!
Make your food stay fresh longer with this super handy and hassle-free tool.
No need for snack clips and other unnecessary food savers!
This will seal the entire bag up and keep your food fresh longer!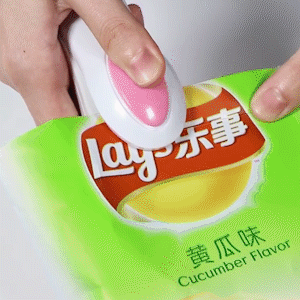 FEATURES:
Seal In Seconds:

Just press and pull the mini food sealer across the bag to create an airtight seal. You will lock you food/ snacks in freshness and flavor.
Multi-Function: It seals most of the common

plastic or aluminum bags.

Keep all edibles (groceries, chips, candies, snacks, leftovers) FRESH and DRY.

Easy to use:

Simply open the protective cover and preheat the device by pressing 5 seconds before use. Then, press it on any bag and slide it along the edge and it's sealed airtight.

Convenient Magnetic Base:

The device comes with a magnetic bottom to attach to a refrigerator or any iron / steel surface so that you can don't need to look for it. Keep it handy in your kitchen, outdoor, cabinet or anywhere you need it.
Highly Portable: The device is compact, with 10 cm or 4" in length, and battery powered. It is a handy tool at home, in your car, in travel or camping.

Make this Mini Portable Heat Sealer your best household partner in keeping your food!
SPECIFICATIONS:
Material: ABS and metal.
Size: Approx.

10 x 4x 4.5cm

Color: Blue / Pink / Green/Yellow

(random color)

Battery: 2 AA Batteries
PACKAGE INCLUDES:
1x Mini Portable Heat Sealers