Are you a basketball Fan? Why not try this? It is a mini basketball shooting game which can exercise wrist and palm. Just release your hand from endless typing or writing.New way of reducing stress and anxiety. Mini basketball shooting game also can exercise wrist.It's perfectly designed for travel game, desk toy, Thanksgiving gift and Christmas gift for both kids and adults.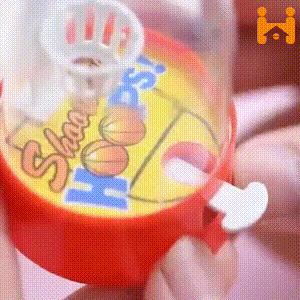 🏀FEATURES🏀:
♘ Hold the basketball in one hand

♘ Rotate the ball by swinging

♘ Master the strength and skill so that the basket can be thrown into the ball box.

♘ You can play and enjoy it anytime, anywhere, without being restrained, you can also be a gift to children who like to play basketball!
⛹️SPECIFICATIONS⛹️:
Material: environmentally friendly plastic

Applicable year: 6+

Color: Red, Yellow, Green

Size: 60mmx40mm
🎁Package Includes🎁:
Mini Handheld Basketball Shooting Game Ball Toys