❗❗❗Punctured tire? There are no repair stations nearby!
👍This Tire Inflator Pump is probably the best-aerated mercury available. The product is equipped with 3 accessory airbags, which usually can be used for bicycles, motorcycles and cars. In addition, it can also be applied to all kinds of ball, canoeing, inflatable sofa, etc.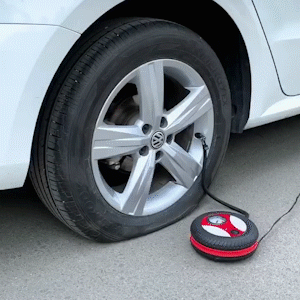 FEATURES
Fast and convenient. Once pressed the switch, it will work automatically with low noise.

Compact and portable with its mini size. Just keep this mini air compressor in your trunk, you can use it anytime anywhere.

Provide pressure gauge and 3 nozzle adapters. Safe and versatile.

Unique slot trachea placement design, simple and convenient to store; effectively protect the trachea.

Compatible with all vehicles with a DC-12V power output; ideal for inflating tires, balls, rubber floater, hovercraft and so on.

Heavy duty design and high quality materials ensure its long life span.
SPECIFICATIONS
Material: Metal & plastic

Rated voltage: DC12V
Power: 120W
Power cord length: 2.4m

Size: 17.5x17.5x6.5cm

Color: Black/ Red

Inflator Pump Weight: 650g/800g

Battery Terminal Weight: 100g
NOTES
The upgraded version has a larger outflow than the standard inflator pump.

Please take a break for 10 minutes in a row when inflating. (Only 5-10 minutes, a completely deflated tire can be filled.)

This device should keep away from moisture, heavy falls and sand intrusion.
PACKAGE INCLUDED
1 * Inflator Pump

or

1 set (Inflator Pump+Battery Terminal)