A Beautiful Dragon Egg
🎁 A beautiful and unique lava dragon's egg souvenir for fans of any magical world with dragons residing in it.
✋This piece is completely handmade, the dragon baby in the egg is made out of polymer clay and is sleeping in epoxy resin.
💝
Every single part of his — tiny feet, wings, head, tail — is worked with incredible detail and love.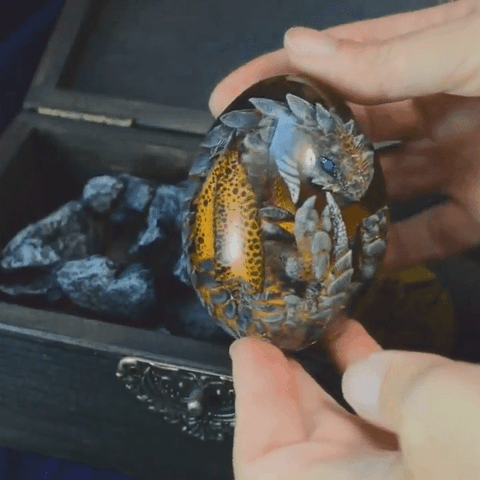 🐉The Dragon Will Guard Your Dream
You can carry him around with you in a bag for good luck, play with him to calm down and relieve stress.

He can sit at your work desk or near your home computer. Sit him on a jewelry box - let him guard your treasures.

You can even sleep with him. If you put him near a light source his little egg will light up and glow.
Perfect Gift
For "Game of Thrones, The Hobbit, Harry Potter, Skyrim, How to train your Dragon" or any other magical world with dragons residing in it.

Made With Love
Every single part of his — tiny feet, wings, head, tail — is worked with incredible detail and love.

Let It Be Your Treasure
It can sit on your work desk or near your home computer. Put it on a jewelry box - let it guard your treasures.

High-Quality Product
Completely handmade, the dragon baby in the egg is made out of polymer clay and is sleeping in epoxy resin

Symbol Of Luck
You can carry the egg around with you in a bag for good luck, play with it to calm down and relieve stress
SPECIFICATIONS:
Material: Resin

Weight: 140G

Size: 5.5* 5.5* 8CM

Base size: 10.5* 8.5* 4CM

Color: blue, green, purple, red

Style: with base, without base

Packet: 1* LAVA Dragon Egg oder 1* LAVA Dragon Egg + 1* Base