🤣
The baby sleeps like a baby kangaroo in her mother's arms
🤣
Moms don't have to worry whenever they go out on the street with a bulky carriage. A solution that makes everything simpler is this Kangaroo Hoodie.
The hoodie is the perfect choice for autumn and winter. Every time you go out, all you need to do is simply wear this hoodie and forget all the cumbersome devices.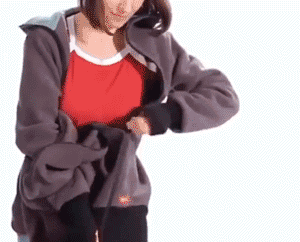 Style 1:

2 in 1 Kangaroo Hoodie
You can wear a normal style (whether you are pregnant or not)

you can bring a baby ( maximum age of 18 months)
Style 2:

4 in 1 Kangaroo Hoodie
The design is a bag in front of the chest that will help your baby to stand upright and keep their body warm. This is the best position for your baby's developmental body.
You can breastfeed with two long side zippers.

You can carry your baby if you have a baby sling or baby sitter (only suitable for up to 18 months).

You can wear it during your pregnancy as it's stretchy.

You can wear it as a casual jacket.
 Size Chart:
 Package Includes: