Made of 100% platinum silicone.
Virtually indestructible and endlessly reusable, these new containers will change the way you store, cook and even eat.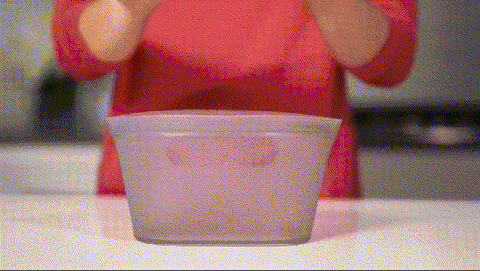 CUP: The cup-type bag is available in 3 sizes and is designed for versatility. Soups and sauces can all go from freezer to microwave to table. Kid's snacks, candy, nuts and almost anything can go in the cup. But don't stop there, use it for travel, on the go or get creative!
DISH: The dish-type bag is available in 3 sizes and is ideal for meals on the go. Simply pull the zipper apart and you have an open dish. No lids to store, find, or clean! Hold your favorite salad, morning oatmeal, pasta, fruit or anything you would use a container for. Perfect for storing leftovers or taking pre-made meals to go. The wide open top offers a great storage solution for craft supplies, like crayons. Ideal for travel, use the dish for toiletries, cords, cosmetics or snacks.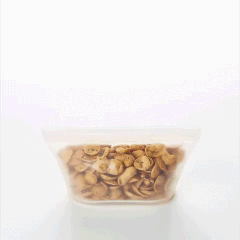 Traditional plastic containers are petroleum-based and can contain harmful chemicals. These toxins can leach into your food, especially when heating or microwaving. Our container is made of 100% pure platinum silicone and is completely plastic-free.