🌈
Give the child a colorful childhood
🌈
Endless imagination of children in bubbles
  ✨Every child should have a childhood running freely in the wind, and this bubble blower can make their childhood romantic and colorful.✨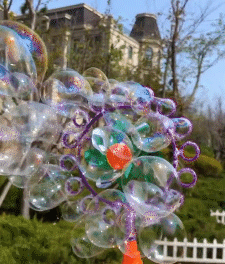 ✈FEATURES:
🌸

Use wind force to create various bubbles.It would be a very romantic thing.This is conducive to the improvement of children's EQ.

🌸

Children can see many bubbles while running and playing, making their childhood colorful.

🌸ACTIVE PARTICIPSTION:In the process of playing, with these bubbles, the children's enthusiasm for playing will be higher, and at the same time, they can improve all abilities in the game.

🌸WITHOUT ELECTRICITY IS NOT DANGEROUS:This product creates bubbles through the wind to ensure that children will not be exposed to electricity during the play. The children have fun and parents can rest assured.

🌸INCREASE FAMILY COLLECTIVE FEELINGS:The whole family can be outdoors together, increasing family feelings, whether it is at a party or a party, it is a very good choice.
✈SPECIFICATIONS:
✈PACKAGE INCLUDED:
🌸1*toy
🌸1*Bubble concentrate